Farm holidays with breakfast
Every morning a delicious surprise
Good morning, everything is ready on your breakfast table to wander right past your palate into your stomach. After all, you want to strengthen yourself for a long, fulfilling vacation day. You need energy, but you also wish to
indulge
! That is why we deliver …
…a filled breakfast basket in front of your holiday apartment. Because a
farm holiday
is
only truly complete with breakfast
.
The most important meal of the day should be a tasty start-up for all your activities, especially during the holidays. We also offer you two breakfast baskets to choose from: one with your own personal mix of organic products from the farm and another with a full farm breakfast and almost everything from the farm Frötscherhof. And what tastes best for a holiday breakfast in the Isarco Valley? Of course, what we residents of the region eat ourselves and what has been the preferred morning meal of us South Tyrolean people for centuries….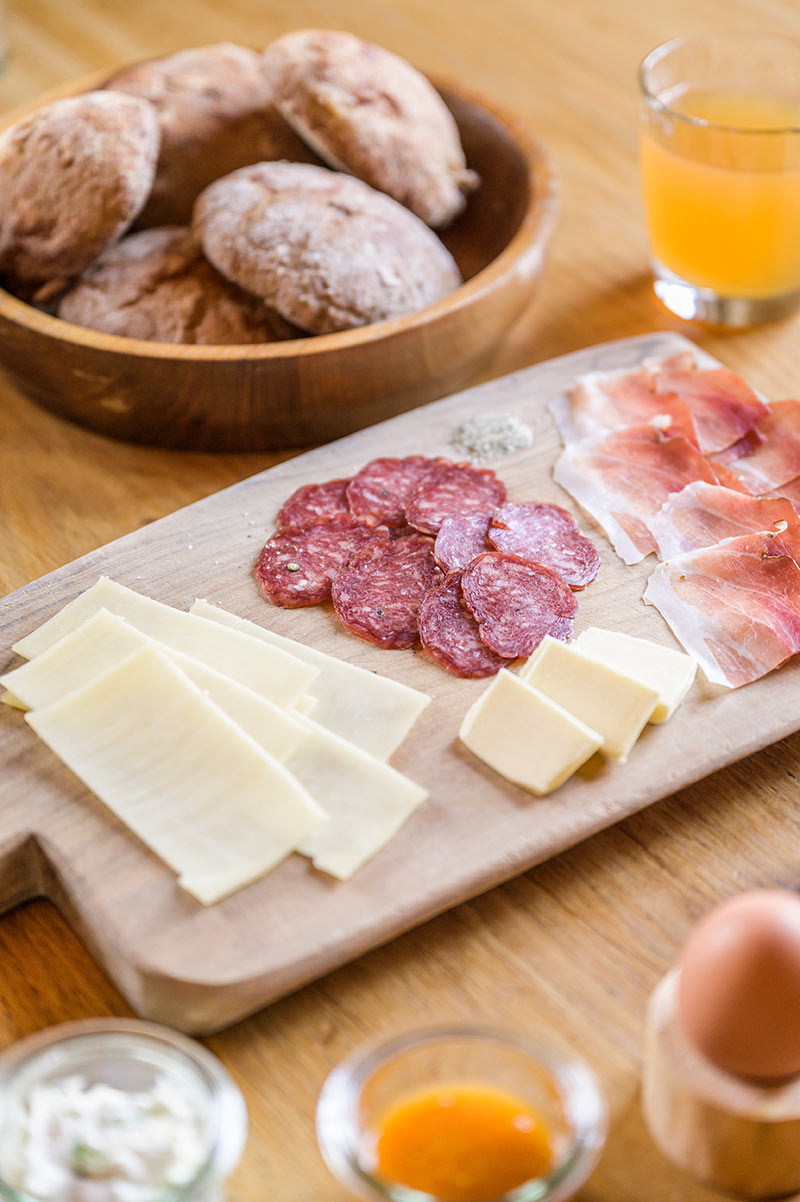 With a hearty farm breakfast, your appetite comes naturally
Let's take a look into the breakfast basket to see what delicacies there are to discover.

There are oven-fresh, fragrant, home-baked whole-meal spelt rolls made from our own grain, a crispy poem for the senses, with every bite of the warm baked goods! In the basket there are eggs from our free-range chickens, there is hearty bacon, yoghurt, cream cheese, butter, cheese from our dairy and fresh milk, which is the product of happy cows that feed on juicy alpine grasses and aromatic herbs. Do you like sweet spreads? Then try our jams and chutneys, which we make ourselves from our aromatic organic fruits. There are also spelt flakes for muesli, teas, and herbs. And of course, there's a pot of coffee.
Every morning a breakfast basket directly from our farm shop
Now, you probably want to know where all the delicacies for your farm holiday with breakfast come from: most of the products come directly from the farm Frötscherhof and our garden.

Everything you will find in your
daily breakfast basket
has been created in harmony with nature – a genuine South Tyrolean product through and through and also a high-quality organic product. If you've got a taste for it, we have even more for you – in
our farm shop
. There you may take a look around and choose among a variety of other culinary delights.
Farm holidays at the farm Frötscherhof await you with products close to nature and high quality.