Summer holidays Bressanone – Mount Plose
The perfect vacation week in the summer
The perfect holiday week in spring, summer, or autumn at the farm Frötscherhof. South Tyrol has a heart for children and their parents, for couples and active sports enthusiasts, for those looking for peace and quiet.
Morning refreshment in the swimming pond at farm Frötscherhof with yoga exercises, to keep you fit.
"Special people choose special places and these are special places of power."
Our local mountain, Mount Plose
A day of hiking on Mount Plose – the cable car is only 1.5 km from the farm (free with the BrixenCard, which you'll receive from us). There are plenty of hiking trails up there.
The Woody Walk – so much more than just hiking. Playing and being amazed are paramount on this unique trail…. for small and large children. The view of the spectacular mountains is unique.
The Brixner Höhenweg, also known as the Zirmhöhenweg, is a very scenic panoramic path to the lodge Ochsenalm.
Paragliding with our neighbour Florian. Start on Mount Plose and land directly in our meadows "Frötscherwiesen."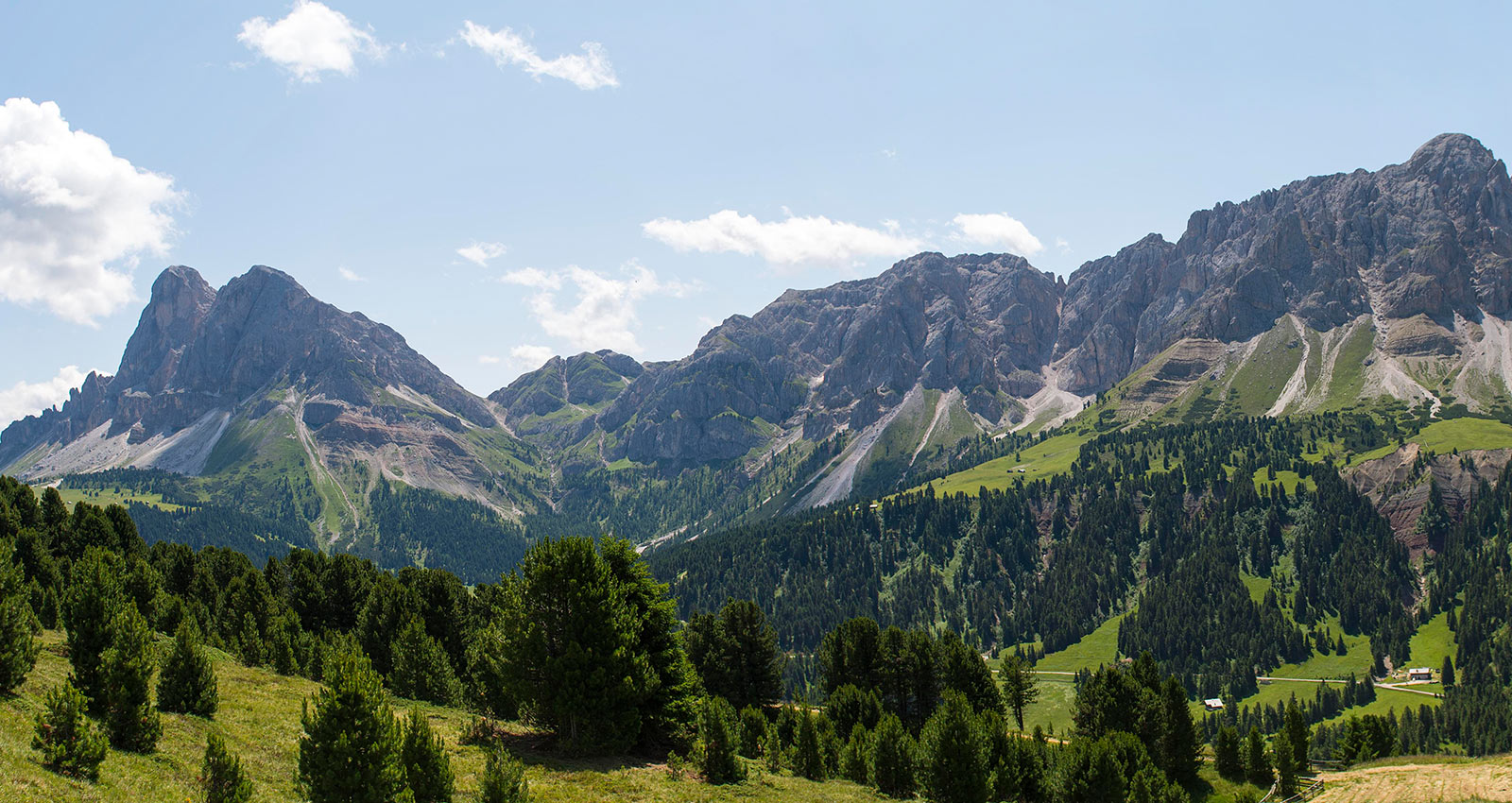 Bressanone & Surroundings
A Törggele hike across the vineyards on the valley floor of the Isarco Valley from the Monastery of Novacella to Lake Varna is a must in autumn. You can stop at one of the typical local taverns that serve excellent home-style cooking. In spring there are wonderful walks along the river Isarco, a "promenade" between blooming orchards and vineyards to the Monastery of Novacella.
Spring excursions, in the low mountain range, an ocean of blossoms.
In autumn, a chestnut hike in the middle Isarco Valley, the "Keschtnweg" (Chestnut Trail), from Velturno to Abbey of Sabiona, to Chiusa, from there back by bus to Velturno. And refreshments in the Törggele taverns with traditional cuisine and young wine.
For hot days
A hike on Sas de Putia, at the foot of the mountains. The starting point is Passo delle Erbe.
The "Geislerkino" (Odle Cinema), across the Funes Valley to the Odle Alp, is well worth a trip.
On extremely hot days you may visit the Gorge Gilfenklamm near Racines, close to the city of Vipiteno. It is a canyon made of pure white marble. A true adventure for children.
Mountain lodges take care of your physical well-being with South Tyrolean specialties.
Discover the city of Bressanone
The city of Bressanone is only 6 km away from our farm. Art, culture, and history have a prominent place in Bressanone.

The cathedral square and many sacred buildings are well worth seeing.
A listed, medieval old town with arcades with crenelated alleys and art representations hidden in archways. You may discover modern cafés and excellent restaurants, attractive shops, and entertaining events. Bressanone, an immensely popular town with an Italian flair.
The Acquarena outdoor pool in Bressanone, a water world with many swimming pools, a real highlight for young and old! (With BrixenCard)
The climbing gym "Vertikale" in Bressanone. Whether young or old, amateur, or professional, there is something for everyone. (Partly BrixenCard)
Historical experiences
Many palaces and castles await you in South Tyrol. A visit to the Fortezza Fortress is an impressive experience. Touriseum Museum in Trauttmansdorff Castle (with BrixenCard).
A day trip to the Renon Earth Pyramids. From Bressanone by train to Bolzano, from there by train to Renon and then by tram or on foot to the earth pyramids. Marvel at a natural wonder. (With BrixenCard)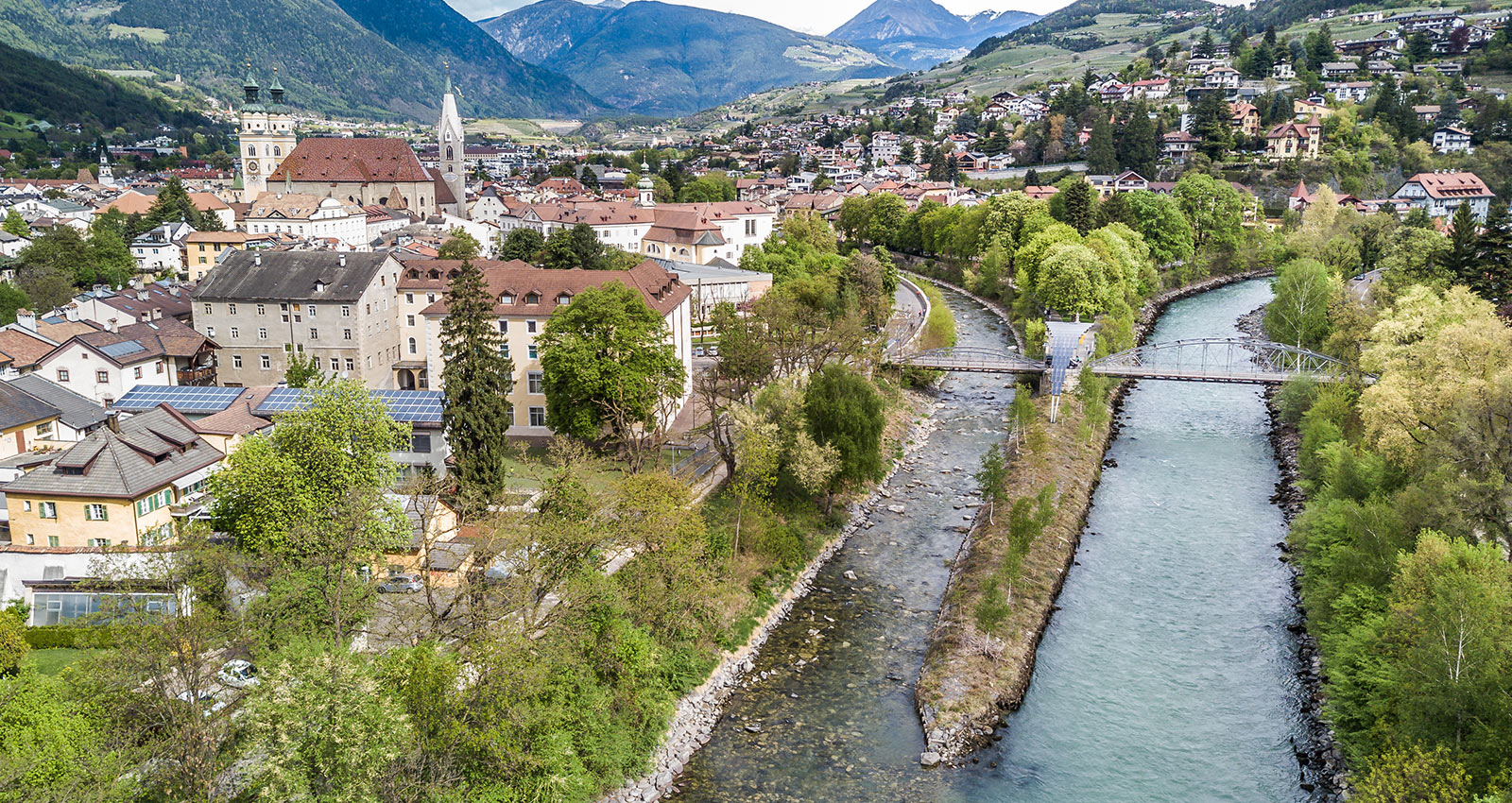 Refreshingly beautiful
swimming lakes in South Tyrol
Luson natural swimming pond for children and those who like to have fun …
Lake Caldaro and Lake Monticolo for active water lovers …
Lake Wolfsgrubener for uninhibited swimming pleasure …
Lake Braies for landscape enthusiasts …
These are just a few highlights of what South Tyrol has to offer. And you still need some time to explore our farm, which also has a lot to offer. From product manufacture to suckler cow husbandry, animals to cuddle, swimming pond and wellness. Visiting our resting places … … enjoy with an enjoyable book and a good glass of South Tyrolean wine.
This is what farm holidays in South Tyrol are all about.
Your Jocher family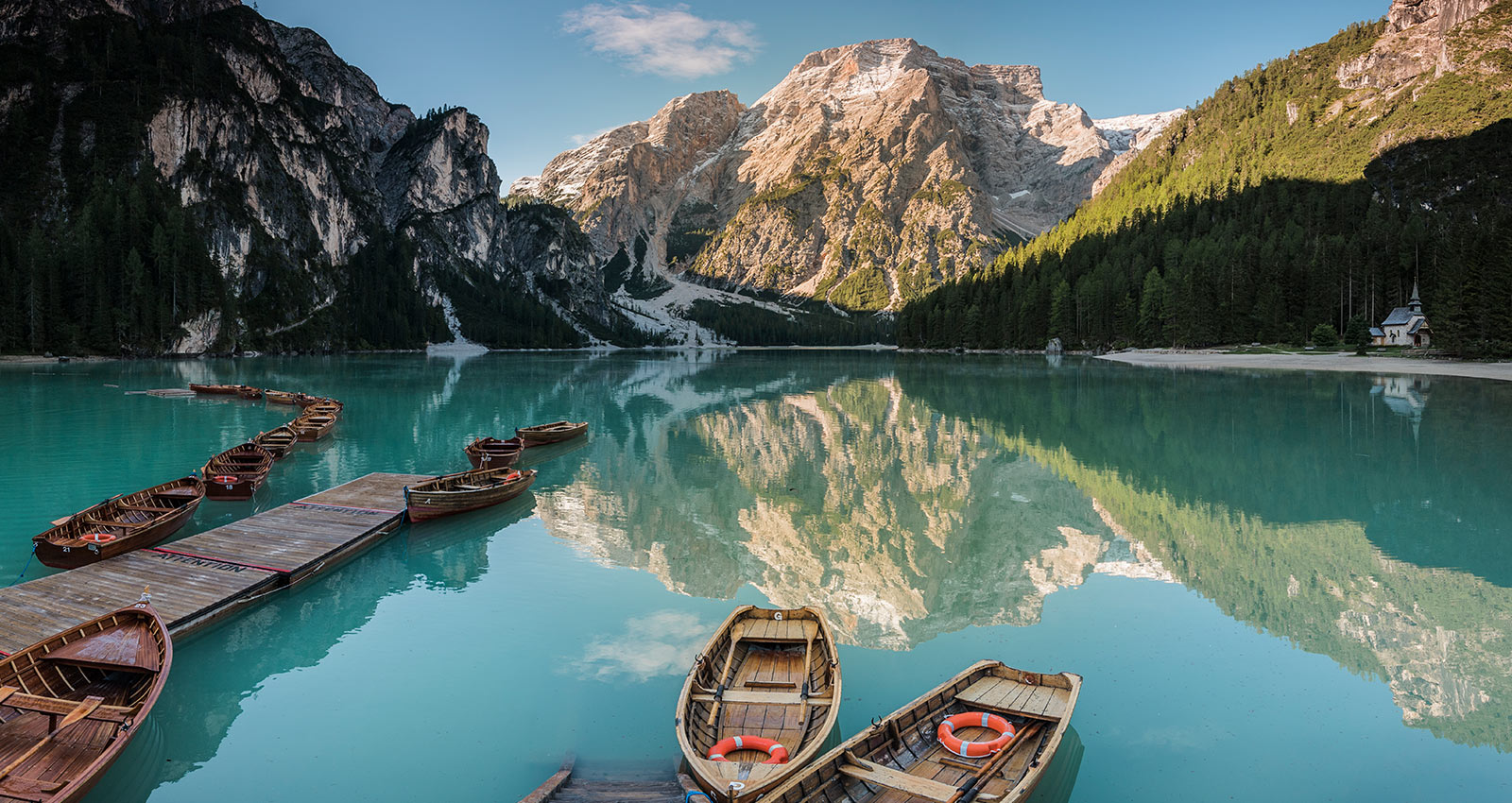 The sun's rays wake you up early in the morning, you breathe in clean mountain air, enjoy the morning freshness and the view of the South Tyrolean mountains, your perfect day can begin.
Enjoy your vacation at the farm Frötscherhof in harmony with nature!
Picking berries, haymaking, potato harvest, aromatic herbs, etc. … there is always something going on.
In summer there are countless activities in nature to choose from. Spend your leisure time the way you wish.
High-ropes courses are very popular. Float through the woods, fly over treetops and still feel safe … a new highlight every day! It is located at the foot of the Odle Peaks in the Funes valley, high-ropes course Funes.
Challenging hiking tours, high alpine tours for experienced hikers and climbers, bike adventures. And for connoisseurs, the fantastic panoramic view of the mountain peaks.
Glittering mountain lakes make nature perfect. There is a lot to discover and experience.
In the immediate vicinity there is also a horse stable for our riding enthusiasts.
The natural swimming pond at the farm Frötscherhof, a true pleasure, with a lawn, parasols, and resting places.
The Plose cable car, only 1.5 km from our farm, is free with the BrixenCard.
High mountain peaks, mysterious castles, the romantic city of Bressanone. Fresh milk, cowbells and children's laughter are food for the soul and spirit. Mountaineering, hiking, and horse riding are available in the nearby area.
And for those who are looking for peace and quiet? Lazing around, just resting, or sunbathing in front of the house: lawn, deck chair, fireplace, barbecue and much more. Peace and relaxation and yet no boredom. A paradise for children – those looking for relaxation and nature lovers, hikers, and mountaineers.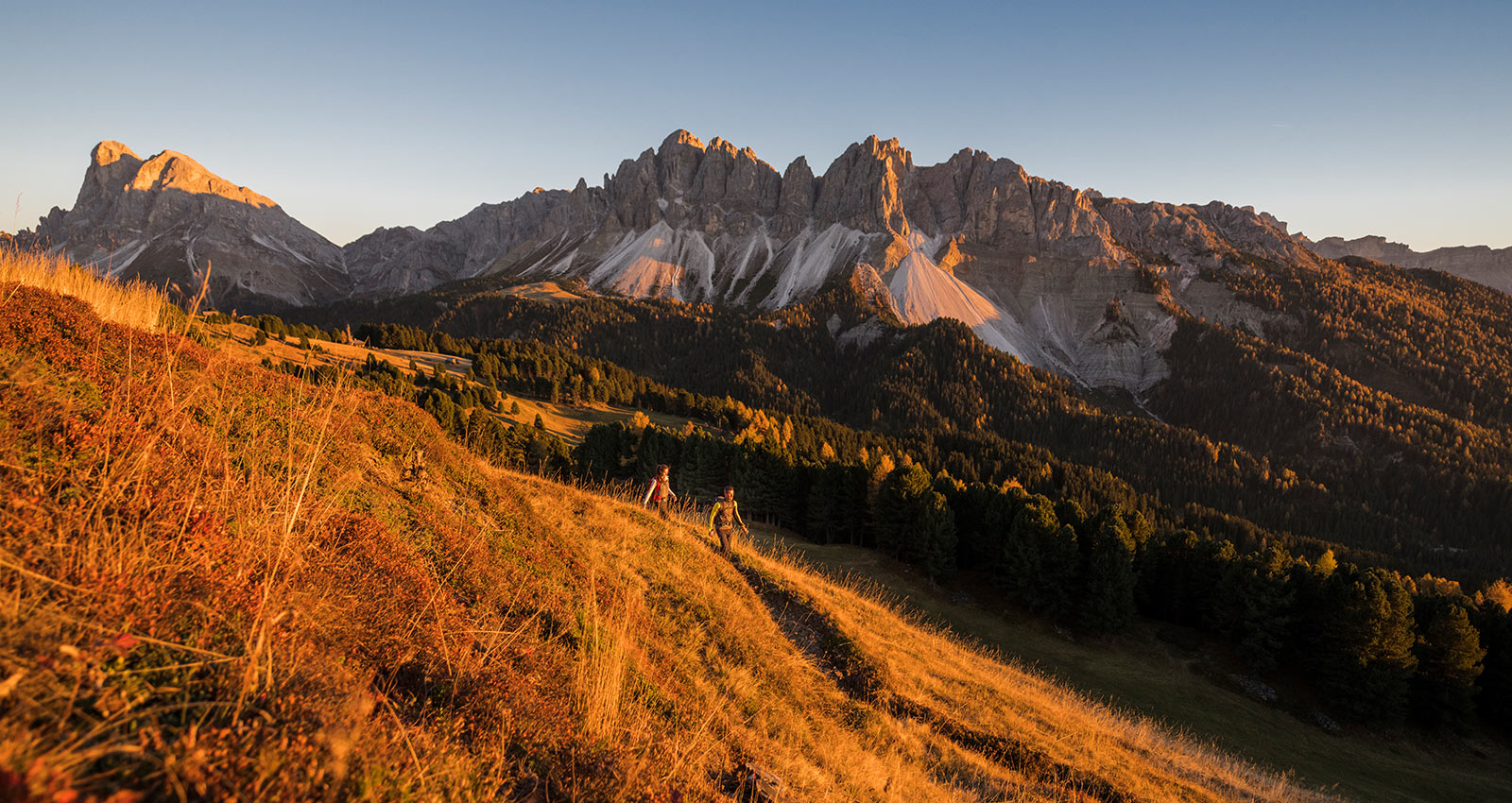 South Tyrol is very popular with mountain bikers. The bike season starts early in South Tyrol – it starts in March and ends in mid-November.
Cycling and e-bike holidays in South Tyrol are a trend.
Some tips for your cycling holiday in South Tyrol:
There are many marked bike trails and cycle routes for e-bike holidays and pleasure cycling holidays, which lead through the most beautiful landscapes in the Isarco Valley and the Dolomites.
New since 2016: the South Tyrol Bike Path, a unique itinerary that connects the South Tyrol's cities with each another.
There are enjoyable routes through the entire region of South Tyrol, wonderful valley bike paths through wine and apple landscapes and traditional villages.
For e-bikers who, thanks to the motor support, can reach the most beautiful excursion destinations without any significant effort …
For extended hiking & biking tours…
…we recommend the offer from South Tyrol Rad:
In almost every train station along the bike route in the Venosta, Isarco and Pusteria Valleys you can rent a trekking bike or mountain bike, ride for a certain distance then and return your bike at any train station with a bike station. Of course, there are also e-bikes (electric mountain bikes) for hire.
On Mount Plose, the hilly terrain is suitable for easy and demanding bike tours.
And last but not least, for our professionals.
The highlight is probably Mount Plose, our local mountain, with many bike trails with various levels of difficulty, from the single trail to the family adventure.
With the BrixenCard, which you will get from us, the Plose cable car can also be used free of charge.
Enjoying the unique panorama of the South Tyrolean Dolomites and then stopping off at a traditional mountain inn along the way, that's a bike holiday in South Tyrol.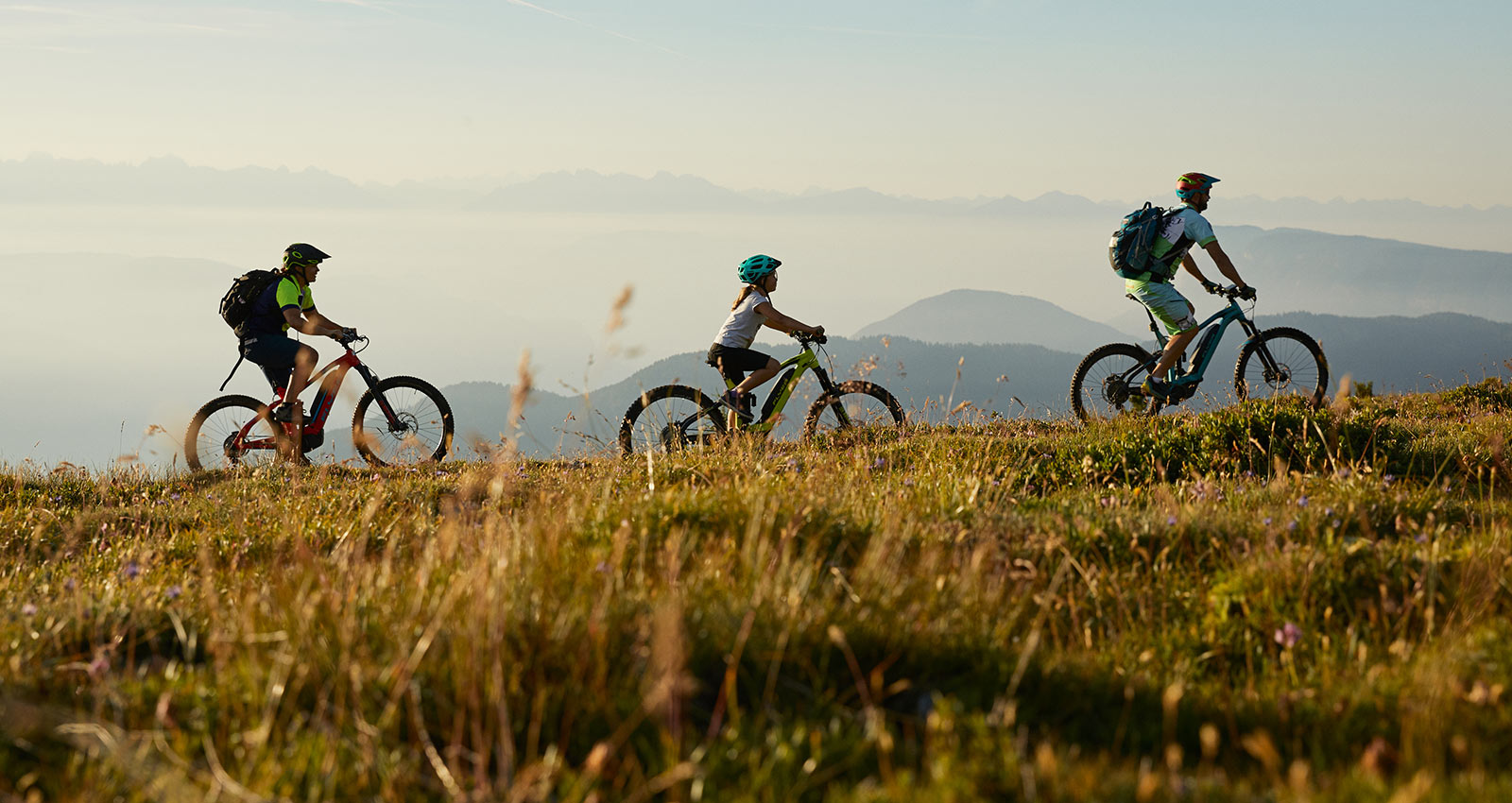 South Tyrol is a hiking paradise
When the mountain calls, many are drawn to nature. With hiking boots on foot or by cable car. The fresh air lets you forget everyday life. Movement in nature creates a feeling of satisfaction. Enjoy the view of the impressive alpine panorama.
Hiking shoes or climbing harness …
… it depends on which destination you choose. Feel the freedom in the lofty heights and enjoy the views of the mountain range. Dip your feet in the mountain lakes to recharge your batteries.
The rucksack filled with delicious regional products from South Tyrol, also from the farm Frötscherhof, of course. Take breaks to recharge your batteries. The mountain huts with delicious South Tyrolean specialties also invite you to stop off.
Meluno or S. Andrea near Bressanone is the ideal starting point for many hikes. Bressanone's local mountain "Plose" has a wide network of alpine pastures and makes the ski area Plose a popular destination even in summer.
The panoramic view over the entire Isarco Valley, far into the Dolomite region, will always amaze you.
Ask your hosts, we will be happy to give you tips.